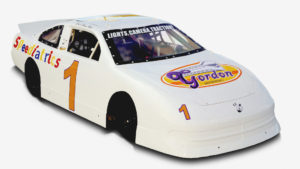 Gordon Motorsport's offers an affordable opportunity for qualified entry level drivers to get their feet wet in a real racecar, at a real track. In just 4 hours, your learn:
Anatomy of a Racecar
Care and feeding of a racecar driver
Basic paddock / pit rules / standard operating procedure. From signing into a facility, to drivers meeting, technical inspection, gridding and track entry / exit points.
Flagging and On-Track communication.
Our stable of MiniCup racecars are a nationally recognized class, that offer a fully caged, fully suspended NASCAR style chassis, powered by an affordable Honda 400cc engine. GMS chose this entry level racer as our driver development platform, because of it's safety, adjustability and simplicity. A great entry level class, and often an appropriate step up from Karts, because of the adjustable chassis. As basic as these cars are, a driver that fully understands how to properly tune a MiniCup, will have the ability to communicate effectively with professional crew chiefs anywhere.
Your time will include one of our trackside video / photo producers, who will capture all the action, providing you with media to aid in your training. You can optimize the value of our time together, by adding a SpeedReel or HeroReel. You'll have the ability to immediately present yourself to potential sponsors.
Please contact us for dates and locations.
GMS also has new cars available for immediate delivery. Easy to maintain, economical and Eco friendly as they require less than a quart of oil, and can practice, qualify and race on about a gallon of regular pump gasoline. Small enough to fit in a back of a pickup truck…no trailer needed!
Weight. 700 Lbs with driver and fuel.
Engine.  Single cylinder, air cooled, 4 stroke Honda.  A stock engine can be purchased at your local Harbor Freight for about $300.
Transmission.  Chain drive, centrifugal clutch.
Suspension.  Fully suspended with coil-over shocks. 
Safety Features.  Full roll cage, aluminum racing seat, five point harness system, fire suppression system.
Body.  One piece fiberglass.
Speed. With enough strait-away, they are capable of 100+ MPH, they're usually within 1/2 second of a Super Late Model at a typical short track . . . Unbelievable, but true!